Here are some popular questions we receive about our eye patches; however, if we have not answered your questions, please contact us through our contact page.
What is the eye patch made of?
The patch is molded of 100% medically approved silicone. There are no bindings, no seams and no nylon threads; nothing to rub, chafe, wear holes in the skin or irritate in any way. It is flexible and soft, but not crushable.
Does each eye patch come with elastic?
Yes, each patch comes with one, fully adjustable, elastic strap. It is 1/8th inch braided elastic. The elastic can be re-knotted as it stretches to allow for longer use. When completely spent, it can be easily replaced. The elastic is usually available at your local fabric store or you can order packages of 6 replacement straps here.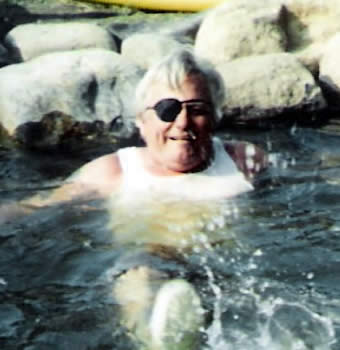 Can I wear The Best Eye Patch under glasses?
This patch does have a lower profile than many pointed, cone-shaped ones. However, it will not fit under all glasses because it is rounded to allow most eyes and lashes to continue to move unrestricted. It depends on how far from your face you wear glasses and the shape of your particular face. I could wear my patch behind some glasses but not all. For that reason I wear a monocle.
How big is the eye patch?
The profile is lower on The Best Eye Patch than many other designs. It is not a pointed cone, but a soft dome. The height of our patch allows for the unrestricted eyelash movement beneath it for most people.
Click here for a pdf of the eye patch tracings. You can print them, cut them out and try them out for size.
Size of Patch
Length
Width
Height of Patch (Dome)

Adult
2.75 (2-3/4) inch
6.985 cm
2.25 (2-1/4) inch
5.7 cm
.34 (11/32) inch
.87 cm
Material thickness 1/16" - 1.59 mm
Extra Large
3.56 (3-9/16) inch
9 cm
2.69 (2-11/16) inch
6.8 cm
.375 (3.8) inch
.95 cm
Material thickness 1/16" - 1.59 mm
Child
2.125 (2-1/8) inch
5.4 cm
1.625 (1-5/8) inch
4.12 cm
.219 (7/32) inch
.55 cm
Material thickness 1/16" - 1.59 mm
Do the eye patches block all light?
Since ours is not an adhesive patch, light can seep in around the edges when you talk, change expression or otherwise move your facial muscles. The darker colors absorb much of the light that seeps in and the lighter colors reflect it behind the patch. The darker the patch, the more light it absorbs. Some of the very bright colors are not as opaque as the darker ones and will be lighter behind the patch. This is especially true of the Yellow Sun and Safety Orange.
How long will the eye patch last?
Years. The patch is washable so make-up, body oils, dirt and nearly anything washes off easily with soap and water.
How do I replace the elastic for my eye patch?
We use an upholstery needle to thread the elastic into the patches. It is blunt and has a large eye making it easy to insert the elastic into the needle and is long enough to make it easy to pull through the patch. You can probably get one at the fabric store along with the elastic. We have also used a ball point pen to push it through. A twist-tie folded over to make a loop also works as a threader in a pinch. Any other suggestions would be welcome on our Facebook page. The elastic is usually available at your local fabric store or you can order packages of 6 replacement straps here. There are also videos on our Facebook page and on YouTube regarding replacing the elastic.
View our Facebook page for Videos.
Can I wear the best eye patch swimming?
Yes. It is made of silicone and is water proof. It will not get wet or soggy as will cardboard or various other common patch materials. It can be used without worry in any wet situation, including rain.
Will the patch fit either eye?
Yes our patches are symmetrical and will fit either eye.
Can I order a custom design?
We are not able to offer custom designs. We cannot add sports team logos, graphics or personal designs or, as occasionally requested, "make one Gucci and one Louis Vuitton eyepatch." Our patches are molded. Periodically we add unique, one of a kind patches. These are available in our custom patches here and also in our EBAY store.
We suggest using stickers, gems, glitter, emblems, etc. on the patch which can be attached using a thin layer of clear silicone caulk available at hardware and big box stores.
What size eye patch should I order?
The larger, adult size, patch is smaller than the average drug store variety but fits most adults comfortably. The smaller, child size, patch usually fits children up to the age of 7 or 8. It depends a lot on the child. After age 8, the adult size usually works well for young people. See the dimensions above for more information. If you still have concerns about size.
Click here for a pdf of the eye patch tracings. You can print them, cut them out and try them out for size.
What are the benefits of the Best Eye Patch?
• 3 sizes to fit most children and adults
• No adhesive tape to irritate skin
• Lasts for years
• Washable
• Elastic is adjustable
• Elastic is replaceable
• Lightweight
• No edge binding to irritate
• Stain resistant
• Soft and Pliable
• 35 different colors
• Odor resistant
• Not affected by humidity
• Long lasting so reduces waste
• Easily stored between uses for intermittent need
• Not crushable
• No need to carry extra patches when traveling.
• Replacement elastic available at every fabric store
• Can be used on either eye
• Chemical resistant
Can I get expedited shipping?

There are shipping options available during the checkout process. If you are interested in special shipping that is not listed, contact me for pricing.
What is the return policy?
We offer 100% satisfaction. If, for any reason, you are not happy with our eye patch, you can return it for a full refund or replacement, your choice. Within 14 days of receiving the patch, contact us for return authorization and the specific return address for your purchase. Credit will be given upon receipt. Buyer pays return shipping.
Where are the eye patches made?
The patches are made right here in the USA: Racine, Wisconsin to be exact. The silicone patches are manufactured in Racine and assembled and packaged in Louisiana by me and my wife, Juley, who also handles the orders and inquiries. I personally make all the custom patches individually.
When can I expect my eye patch?
All patches are sent by United States Postal Service (USPS) 1st class within 1-2 business days and often within hours of receipt. The Post Office advises that 1st class mail normally takes 3-5 postal days and has no tracking. Tracking is accessible with the Priority and Priority Express options, available during the checkout process.
What if I want several eye patches? Is there a discount?

We offer Buy 3 Get 2 Free. This will automatically be computed as you add 5 patches to the cart.
If I want to pay by check or money order, what do I do?
If you prefer to pay by check or money order, please click one of the links below.

- Silicone Eye Patch Order Form
- Custom Eye Patch Order Form

All payments are held until cleared by our bank. Postal money orders are shipped same as cash.

All International Payments must be made in U. S. Dollars.