If you must wear an eye patch, it may as well be comfortable!
It was a beautiful Sunday in July, 1994. The boys had just left for a week of camping with relatives and I was planning a relaxing afternoon with my wife attending a music festival on the lake front. I just wanted to replace that blown outlet in the garage first. Should only take 15 minutes.
An accident with the screw driver changed things forever. In 2009, I finally had to have the eye removed and now wear an artificial eye.
For 15 years I wore an eye patch. Mostly a black eye patch and sometimes for fun, a purple, red, blue or white patch. I am a paint contractor. I continuously interact with the people and at first I was very self conscious. I didn't like the pirate look. However, I got used to it and it became part of my persona. But I went through a lot of patches. They would get speckled with paint.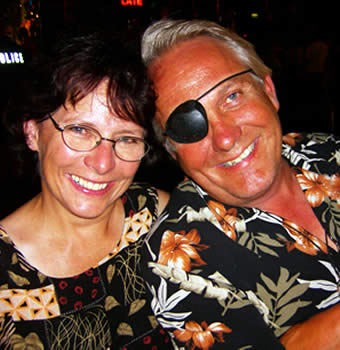 During all those years I tried all kinds of patches: paper ones with elastic too tight, then too loose; cardboard ones so stiff and pointy; binding that wore holes in my face. Finally I found a lady in Seattle, Washington that made great patches at home any color I wanted. I ordered patches by the gross from her until she retired and my search for a comfortable patch resumed. When I finally found one that wore really well, was comfortable and washable, it was soon discontinued by the company and I was back to the cardboard patches from the drug store.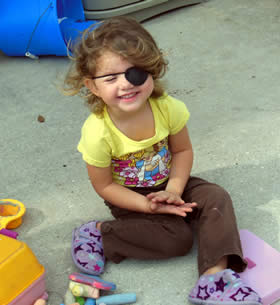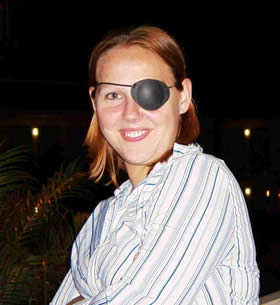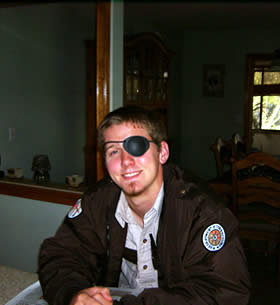 So I created my own. It is made out of medically approved silicone, is light weight, doesn't break down and get gummy like some vinyl ones do. With adjustable, replaceable elastic, this patch lasts for years. It does not absorb sweat and get discolored. A mishap with the ketchup bottle easily washes off. Paint splatter washes off. It holds up well in the rain and snow. Make-up, sun screen, cotton candy (from that kid in front of me at the parade), oil, grease, mud, and just plain, old, daily grime wash off with ease.